Components and dies for the automotive industry
The automotive industry requires specific skills due to a very high control over the programming and production process. Thanks to its extensive experience in the sector, F.lli Poli offers its expertise to support companies in developing parts and dies.
Materials
A great variety of materials is used for manufacturing cars and their components. The automotive industry is often considered as very innovative: high strength steels were developed to enhance passenger safety and the use of aluminium and magnesium was introduced to reduce car weight while ensuring high performances. In addition to pure materials or special alloys, the use of materials suitably pre-coated to preserve their features after forming is also widespread.
F.lli Poli has gradually adapted its production capacity to work different materials.
In 2010, the first forming tests were carried out with a magnesium alloy: a material with a performance similar to aluminium but having a specific weight that is one third less than aluminium. At that time, there were only three magnesium alloy suppliers in Europe, two of which were based in the EU.
The automotive market is pushing for increasingly lighter cars, as weight is crucial for fuel efficiency.
Side parts, brackets and internal components can be made using magnesium. In addition to cold forming, also die-casting and thixo-moulding are suitable to work such material.
Extra care is needed when using a magnesium alloy rather than aluminium. If you have any special requirements, you can rely on our experience and expertise in cold forming and rest assured no "surprises" will accompany the die manufacturing and forming process.
It is crucial to design the dies considering the formability limits of such materials, which are different from the ones of aluminium.
In the automotive industry, special ballistic steels are also used for manufacturing armoured cars. These materials require extra care in the production process.
In some special applications, self-healing materials are used. Such materials can self-repair if they get scratched or scraped, so that no damaged part can trigger any piercing and structurally dangerous oxidation.
Cold-formed metal parts are commonly used as structural parts of the vehicle, as well as components of the engine block and gearbox.
Manufacturing technologies
Two types of dies are widespread for cold metal forming in the automotive industry:
Progressive dies
Progressive die forming involves feeding a coil of metal through different forming steps to get the finished part. Metal sheet is generally first cut and then subsequently formed. Coining, bending, shaping and marking steps can all be carried out in a single die.
According to the die design and the number of parts produced per stroke, once the coil is gradually shaped and gets to the end of the forming process, one or more finished parts are produced.
The part manufacturing with a progressive die is very cost effective even though the die itself can be extremely expensive.
The high volume of parts with a long production length, typical in the car industry, allows to achieve an excellent balance between production costs and die costs, resulting in very cost-effective parts.
Progressive dies are commonly used in combination with mechanical presses, which allow higher productivity thanks to a higher number of strokes per minute.
Drawing dies
Deep drawing of parts is also widespread in the car industry. Deep drawing forming is far more complex than progressive die forming.
Deep drawing implies that the metal, instead of being simply bent, is also 'stretched' to form complex three-dimensional geometries.
Hydraulic presses are normally used for deep drawing. Although such presses are slower, their compressive force is extremely high even at low speeds (useful to prevent metal splitting during the elongation steps).
F.lli Poli fully supports its client starting from part designing with simulation activities and modification proposals whenever manufacturing problems related to material thickness or shape arise.
In the die developing process, we provide our expertise to evaluate if the best solution would be forming through a progressive die or compound dies.
We support our clients to find the most cost-effective solutions and enable them to provide a quality service to the end client.
How we create value
The development of parts for the automotive industry requires some specific activities to be carried out for the parts' validation.
The car manufacturer (OEM) contracts the manufacturers of complex systems (Tier 1 or Tier 2) to produce the product by collaborating in the development of the components. We fully support our client by carrying out simulations to identify any required part modifications before starting the die designing.
Tier 1 or Tier 2 suppliers often have to provide the first prototypes for carrying out functional tests with the end client (OEM). In this context, the supplier can make the difference:
If the prototypes need to be provided well ahead of the die manufacturing, we support our customer by producing the so-called "soft tools". Soft tools are basic devices that can be used only to produce the first prototypes.
The material indicated by the client is formed through the soft tools and later 3D-lasercut to get the first samples. These can be used for initial functional tests.
If the first samples have to be provided shortly before the dies' delivery date, soft tools are not needed. We can quickly complete the forming steps of the die and use them to form the first samples, which are subsequently laser cut even before the completion of the trimming steps.
Hence, the produced parts are very similar to the final version of the product although the development of dies has not been completed yet. This flexibility is much appreciated and allows us to effectively support our client.
F.lli Poli is also equipped with a latest-generation laser scanner to measure even complex parts and compare their real dimensions to the nominal ones given by the client.
This system also allows to measure the material thickness in all the most critical points (which, talking about deep drawing, are those with the highest elongation).
Our solutions for die manufacturing and forming are therefore based on these technologies, which allow us to maintain a top-quality level and to meet the most complex and high-quality requirements from our clients.
Some applications of F.lli Poli
F.lli Poli manufactured a high number of dies and handled many forming projects in the automotive field over the years.
Please find below some examples that will show you some of the materials and the complexity we can handle with ease.
We are available to discuss in detail the applications based on the technical drawings received by our clients.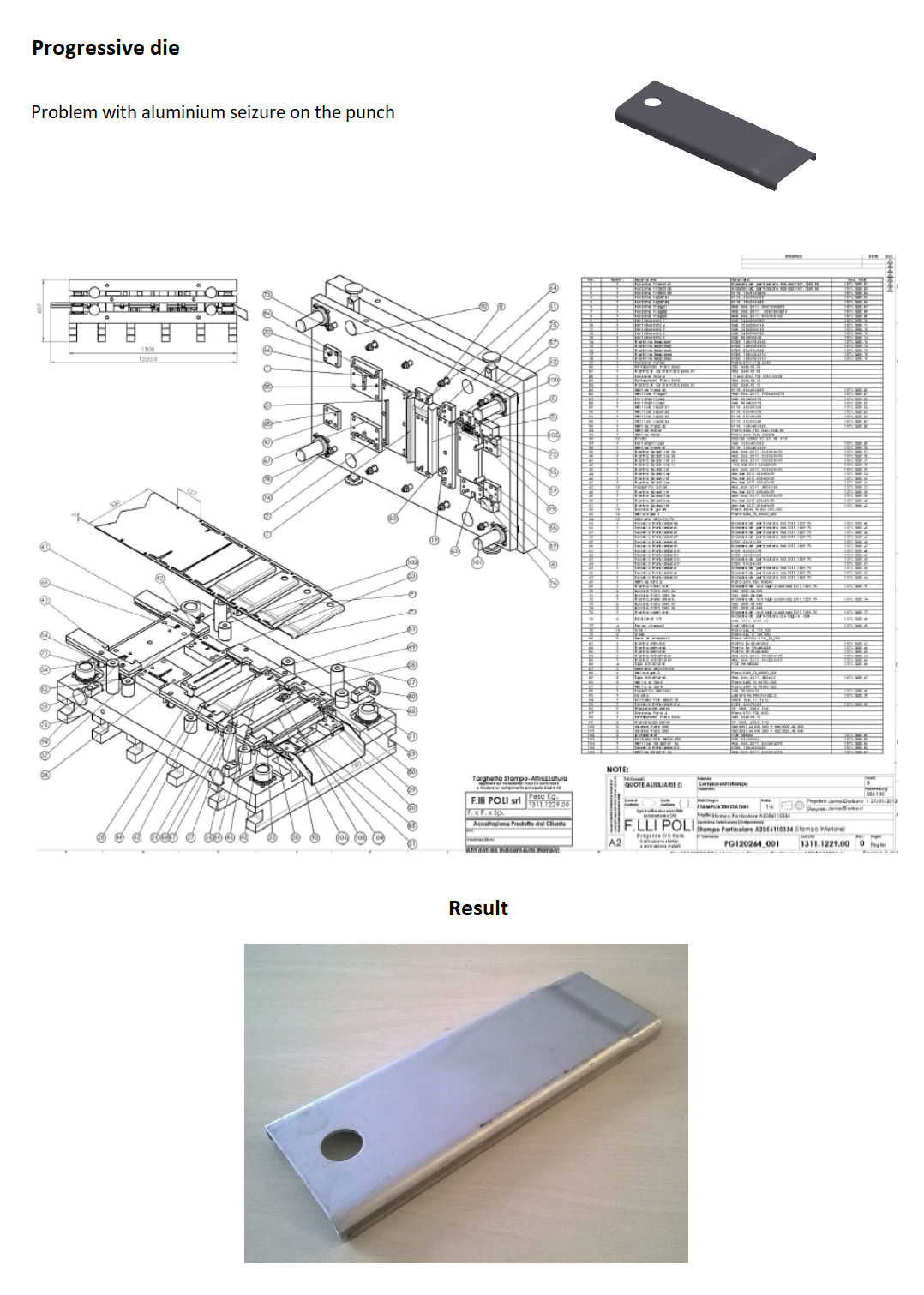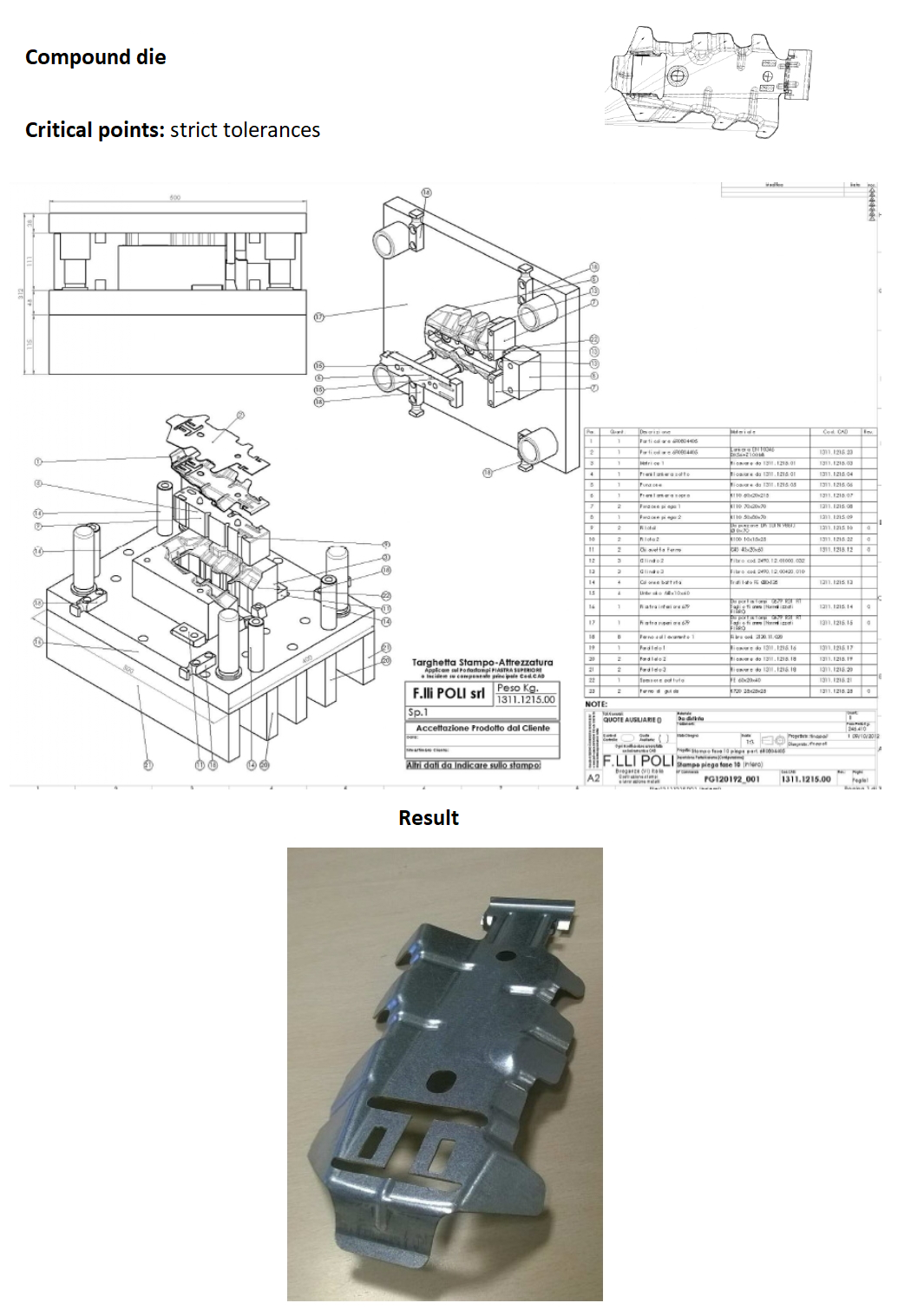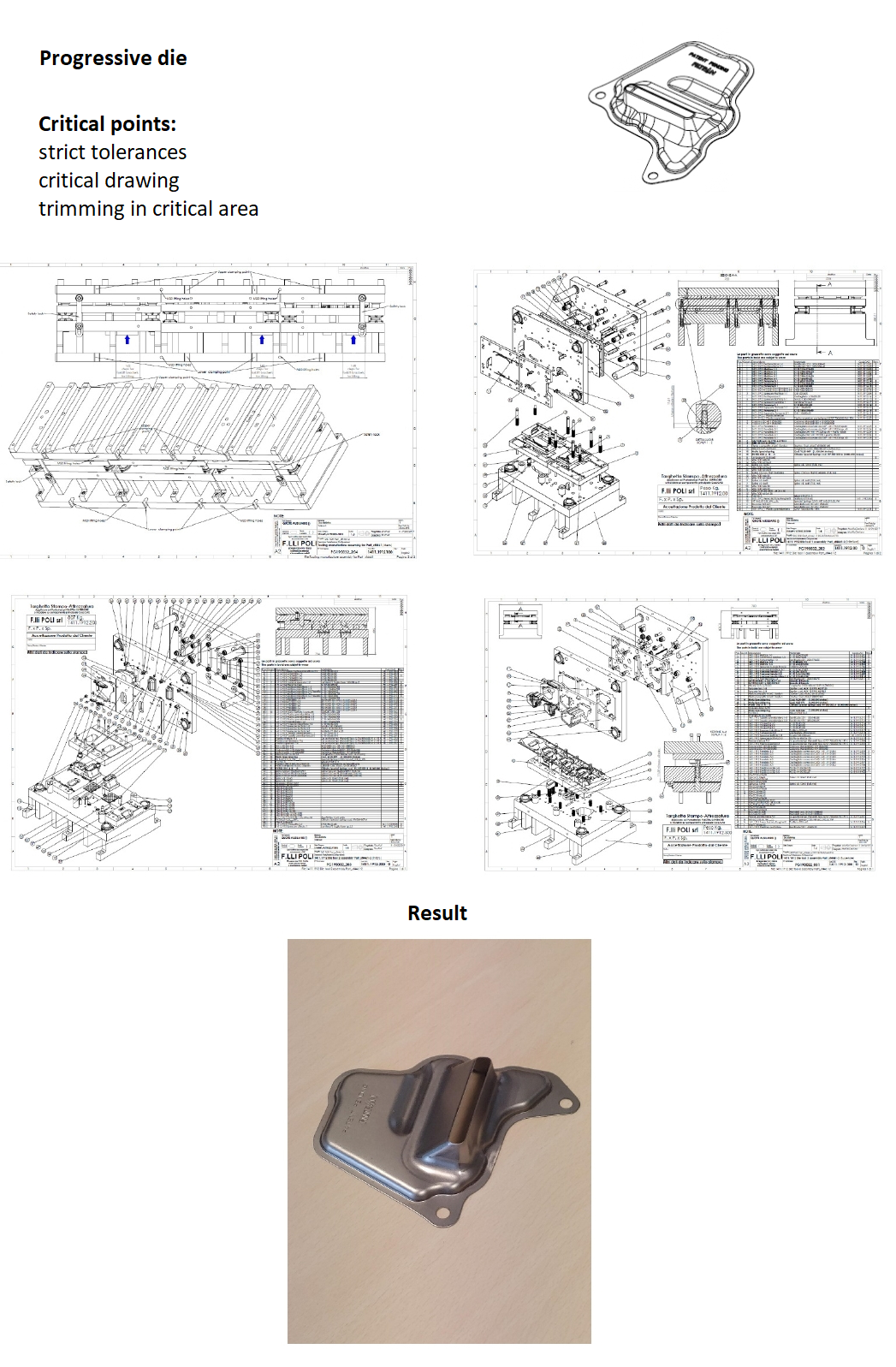 Fill out the form below for more information