Development of components for the Energy sector
The Energy sector is rapidly expanding at the moment, and the European Union has defined finding solutions for the development of new Net-Zero energy production systems as strategic.
Thanks to its extensive experience in this sector, F.lli Poli is proud to offer its expertise to support companies in developing components for the energy sector.
Materials
Products and machinery for the Energy sector must meet resistance and durability requirements, even in hostile environments, which are much stricter than in other sectors.
There are some metallic materials that meet this type of needs particularly well; thanks to its technology, F.lli Poli can handle these very competently.
In these fields, the main materials used are stainless steel and special alloys. Such materials are perfect for applications where the manufactured products come into contact with oxidizing agents, thus minimizing the risk of corrosion of the components.
For those applications where operating temperatures can be high (for instance, a SOFC fuel cell operates continuously at a temperature of 800°C while MCFCs – Molten Carbonate Fuel Cells – operate at 650°C), we have developed specific solutions that allow us to guarantee excellent results with low costs, without compromising on the safety of the final product.
However, together with fuel cells, there are also some cells that operate in a particularly aggressive environment.
In addition to the covering components, the connectors covering the primary ceramic cells (in the case of SOFC cells) also need to have specific mechanical features in order to operate properly. Stainless steel is the most suitable material also for these applications.
The use of ad hoc materials (with special alloys) allows to minimize production costs while maintaining very high-quality standards, thus ensuring the proper functioning of the components over a long time (for decades).
This requirement is crucial for energy industry products as they are often installed in hard-to-reach areas and therefore need to be maintenance-free.
We have also been exploring other lightweight materials that are interesting for this structure.
In particular, we have carried out cold bending and forming tests of titanium and magnesium in sheets.
For titanium, the tests were carried out in antagonism with stainless steel for applications where lightweight was particularly required given the same mechanical characteristics, but also for applications where the product needed to be used in particularly chemically aggressive environments.
For magnesium (a magnesium alloy) the tests were carried out in antagonism with aluminium for applications where a lighter weight was, given the same mechanical characteristics, an important discriminating factor (with excellent results considering magnesium weighs one third less than aluminium).
Current construction processes
The shape of the components that can be made of stainless steel is strongly linked to the type of processes used to manufacture the component.
In particular, it is extremely complex to create three-dimensional shapes without assembling simpler components – often bent by means of a press brake – which are then welded together.
In the energy sector, and particularly in those applications where temperature or high corrosion are important factors affecting the lifespan of the system, welding processes can considerably impact the lifespan of the product.
Welding is a critical process, and its price cannot be reduced (it depends on the welding time, which does not decrease as you increase the number of pieces manufactured) and it is a process that requires special care. For this reason, considerable and uneconomic post-welding spot checks are often carried out but, despite these, it would be impossible to guarantee all items are defect-free (unless 100% of the items were checked).
The issue with welding, however, is not only what happens during the process itself; there are critical issues that might arise over time due to the welding-induced structural changes in the material.
As a matter of fact, there is a lot of literature about welding-induced issues with metal components (particularly with stainless steel) in the Heat Affected Zone. Some major structural changes (due to chromium migration or to a difference on the welding material) make the product attackable by uncontrollable oxidation or cracks over time.
Only subsequent specific treatments can somehow minimize these critical issues.
In the energy sector, it is therefore important to manage those issues by taking further steps (such as pickling and passivation).
This type of treatments can make the process both expensive and time-consuming in terms of lead time.
Alternative Technologies
Deep-drawing forming is particularly suitable for meeting the needs of this sector. This technology, perfectly mastered by F.lli Poli, allows to manufacture formed components with substantial cost savings.
That is even more advantageous when producing large numbers, as economies of scale are achieved with very high quality of production.
The particular care F.lli Poli has developed in cold metal drawing enables to avoid welding while manufacturing components.
The finished product will be more reliable both at the time of production and, even most importantly, while being used in the long run.
F.lli Poli provides unique support for the optimization of production costs thanks to its 3D cutting technology.
This technology allows us to provide our clients with two specific advantages:
We are effectively able to halve the investment costs for the production of deep drawing dies by cutting the deep-drawn product, with complex geometry, thanks to the opportunities provided by 3D Laser.
When several versions of the same product are needed, we can easily make some production batches with minor modifications to the openings and to the holes. This flexibility allows our clients to create customized products without having to significantly invest in dies.
How we create value
F.lli Poli is an active partner aiming at finding ways to support designers searching for increasingly innovative solutions.
Together with our client, we experiment with complex solutions, and we open up the production process to new experiences.
We are happy to invest together with our clients to bring in innovation whenever there are clear growth paths for both clients and suppliers. We are aware that if you want to emerge in today's complex market, it is critical to face the challenges ahead of us in an active partnership. Only a fair and balanced relationship between a client and their supplier will allow the latter to transfer the real competitive advantages resulting from the technologies available to create innovative products making the most of co-designing.
This enabled us to create products that are unique in the world thanks to technologies that, initially, did not seem applicable.
F.lli Poli in the history of Energy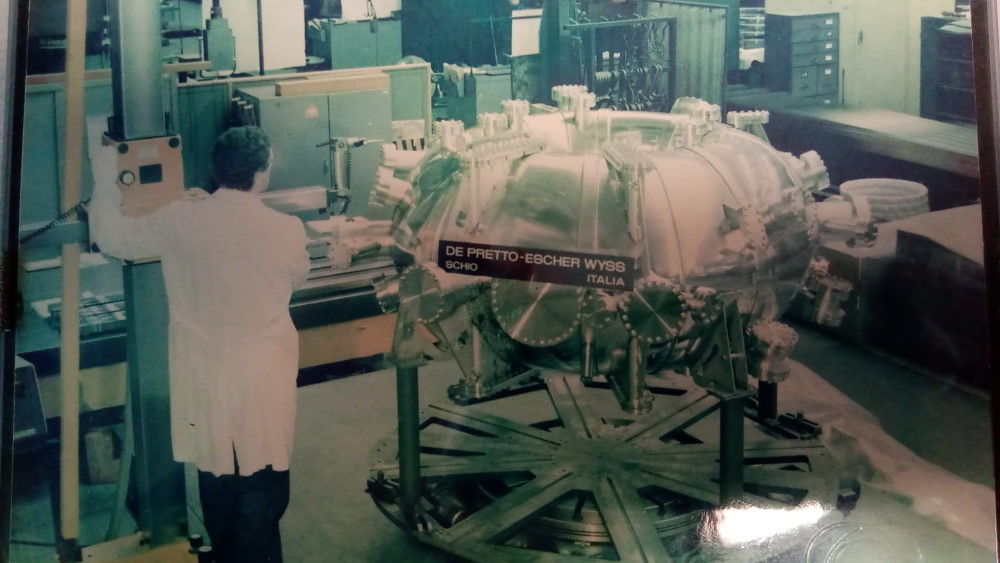 Nuclear fusion is a very topical subject since the ITER consortium is building a device for carrying out a functional test in France.
ITER (International Thermonuclear Experimental Reactor) is a fusion experimental reactor, currently under construction, designed to prove the feasibility of fusion as a source of energy, an endeavour aiming at proving that it is possible to use nuclear fusion for the safe and sustainable future of energy.
The ITER international agreement, funded by the European Union, Japan, Russia, the United States, China, Korea and India, has appointed Consorzio RFX – made up of Italian CNR, University of Padua, Enea, Infn and Acciaierie Venete, in collaboration with laboratories in Culham (UK), Garching (Germany), Cadarache (France), Naka (Japan) and Bhat (India) – to build two important devices in the CNR Area of Padua, Italy: Spider, the prototype of the atom source, and Mitica that completes the source with the 1 MV (one million volts) acceleration system.
It would not have been possible to get to this point if, back in 1990, one of the first experiments to validate such theory had not been carried out in England, at an old Royal Navy airport near Culham, Oxfordshire, UK.
In 1997, JET was used to carry out a major campaign of deuterium-tritium fusion reactions, whose results in high confinement mode (H-mode) at 5 MW were used as the experimental basis for the design of the ITER fusion reactor. During this campaign, JET obtained the highest fusion gain factor (Q) ever achieved by 2019 by a nuclear fusion device, with a Q = 0.67.
At that time, F.lli Poli lended its expertise to make, for De Pretto of Schio (Italy), the prototype of the stainless-steel containment cell that allowed the nuclear fusion reactor to operate for the duration of the experiment (1 ms).
Even on that occasion, the project seemed impossible to achieve but, like any cooperation involving F.lli Poli, it was possible to complete the project by delivering the toroidal device (see attached photo) used for the verification of the theory.
Since then, F.lli Poli has been supporting technicians eager to go beyond current technologies and develop new ones, providing its expertise in materials and production processes where metal deformation is needed.
The ignition of ITER will be the stepping-stone of a journey that started almost 50 years ago, a journey in which we have always been at our distinguished clients' side.
Energy and Europe (an extract from the official document of the European Union)
https://www.consilium.europa.eu/it/policies/clean-energy/
The transition to a low-carbon economy and increased energy efficiency are essential aspects of the Energy Union strategy.
The European Union provides market operators with an effective tool for investment: the European Fund for Strategic Investments (EFSI), the core of the investment plan for Europe, aimed at supporting investments in energy infrastructure, energy efficiency and renewable energy.
Apart from the contribution that public funding can make at a national and at EU level, most investment will clearly need to be mobilized through the market. Therefore, the key challenge is to ensure that energy markets work, that businesses have the right signals to invest, and that access to financial markets is facilitated.
The energy sector has enormous potential to drive jobs and growth in Europe and can positively influence the competitiveness of the European economy in many sectors of both industry and services. This in turn can lead to significant savings on fossil fuels, thus reducing the cost of energy imports for the EU.
How to access funding
Infrastructure and Innovation projects shall consult the dedicated Window deployed through the EIB (https://www.eib.org/en/efsi/index.htm). Small and medium enterprises shall consult the SME Window implemented through the European Investment Fund (EIF).
Complementary Funding
The opportunities offered under the Investment Plan for Europe complement the grants and financial instruments provided by the European Structural and Investment Funds (ESIF). EFSI provides risk financing instruments (not grants). EFSI and ESIF can be combined to mobilise additional investment. These instruments are complemented by various funding sources such as:
– The European Energy Efficiency Fund (EEEF);
– An innovative public-private partnership aimed at mitigating climate change through the adoption of energy efficiency measures and the use of renewable energy in the EU. – the Private Finance for Energy Efficiency (PF4EE) – a financial instrument funded by the EU through the LIFE programme and implemented by the EIB;
– NER 300 – one of the world's largest funding programmes to support the demonstration of innovative low-carbon energy projects. The program is designed to promote environmentally safe carbon capture and storage demonstration projects and innovative renewable energy technologies on a commercial scale in the EU.
Fill out the form below for more information